http://t.co/GikWrO2G92 Laughter Spot – Great pub signs pic.twitter.com/XcyqslPXXX

— Will Corry (@slievemore) May 19, 2014
Ogilvy & Mather has apologised for an ad, made by its Indian offices for a mattress brand, that used illustrations of Malala Yousafzai, the Pakistani schoolgirl who was shot by the Taliban.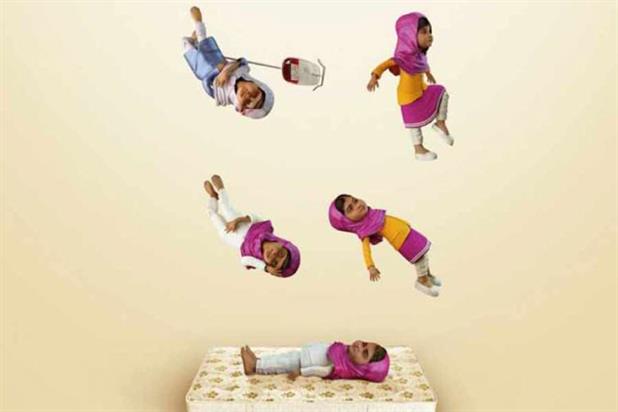 Kurl-on: ad by Ogilvy & Mather
The poster campaign, for mattress brand Kurl-On, shows cartoon drawings of Yousafzai being shot in the head, falling onto a mattress then bouncing back up and receiving an award.
The Yousafzai ad is one of three in the same campaign. The other two depitct deceased Apple founder Steve Jobs and Mahatma Gandhi. It is not clear whether the posters occupied any paid media spots.
Get him up the aisle: UK shoppers finding love in the supermarket
One in eight has given their number to a fellow supermarket shopper
6.38pm is the prime time to find love in the supermarket
Pizza aisle the biggest hotbed of supermarket flirting
Forget bagging a bargain, research from shopper marketing app,@Shopitize has found that supermarkets are the hottest new place to pick up a date. Brits are going wild in the aisles, according to the latest consumer insight data from Shopitize, with one in eight (13 per cent) saucy shoppers admitting to exchanging numbers with a fellow trolley-pusher. Six per cent have dated someone they met in the supermarket, whilst staggeringly, two per cent of those questioned said they had married someone they met at the supermarket.
Why should you attend ad:tech london in October?
Events : An important message for brand marketers, agency executives, media owners and investors - ad:tech London 21-22 October 2014
Source Suppliers - Learn - Network - Benchmark
ad:tech is where the modern marketing and media community meet each year to source suppliers, network with industry players, benchmark their digital strategies and get-to-grips with emerging trends and technologies.

The evolving marketing and media landscape brings with it challenges as traditional rules are abandoned and job roles change. Budget pressures mean ROI, data and attribution are key, whilst the changing way that media is being bought and sold continues to disrupt the entire industry value chain of the industry.

'ad:tech is a rich resource of inspiring keynotes'
Effective use of social media, mobile and engaging content as part of a seamless multichannel strategy is the expectation of the modern marketer and ad:tech is a rich resource of inspiring keynotes, lively panel debates, best-in-class case studies and free practical seminar sessions to inspire and keep your strategy on-track.
The combination of the ad:tech conference and exhibition creates an unparalleled marketplace for you to build relationships with your future partners and define your strategic approach to key challenges and opportunities.
It's this mix of high quality content, networking and partner sourcing that make ad:tech London the must-attend event for brand marketers, agency executives, media owners and investors this autumn.
http://www.themarketingblog.co.uk/?p=48845

One year on from the sad and untimely death of David Pinnington of Omnicom Media Group (OMG) to cancer, a team of former colleagues and friends are setting off on an epic 300 mile cycle ride in his name.  Cycling from Land's End to London to raise money for the Royal Marsden Cancer Hospital seems a fitting tribute for David – known as Dave or Pinners to most –who was totally fanatical about sport, both at work and play.

http://ontheedgelive.co.uk/manchester/
Netbiscuits have released its quarterly web trends report analysing user behaviour on the mobile web across 242 countries.

@Netbiscuits discovered over 4,000 unique devices, across more than 200 vendors and 26 operating systems, an increase of 8% unique mobile handsets and 30% more tablets compared to 3 months ago.
Using the data, Netbiscuits was able to group together factors, such as screen size and speed of connectivity against the proportion of web traffic to build up a picture of how these characteristics impact user engagement globally. This data is used to create personas which segment users based on their behaviour, which is hugely important for mobile marketers trying to engage with customers and gain a better understanding of how to improve conversion via mobile devices.