Publishers need to make it easier for advertisers to say yes

Guy Cookson is CMO and co-founder at Respond
For publishers, there remains a discrepancy between mobile traffic and digital ad revenue that comes from this source - Guy Cookson from Respond argues for more native formats across devices to balance this.

Billionaire former Mayor of New York City Michael Bloomberg says one of the best pieces of advice in business is this: "when the customer says yes, stop talking." 
Well, it makes sense. If the deal is done, why complicate things? But that's exactly what publishers have been doing in a big way since the explosion in mobile traffic over the last ten years.
Big brands want to advertise with big publishers
The fact is that big brands want to advertise with big publishers. It's one of the only places they can reach the right people in the right environment. Yes, social media is wonderful for scale and targeting, but nothing quite beats being surrounded by high quality editorial. And yes, the brands as publishers phenomenon is real, but it's mighty hard to attract a large audience to brand properties.
MEET THE GIRLS BEHIND THE NAKED CALENDAR FACEBOOK DEEMED PORNOGRAPHIC
THE DEBRIEF: THEY'RE UNDERSTANDLY PRETTY FRUSTRATED BY THE FACT THE EQUIVALENT PICTURES OF MEN FACED A VERY DIFFERENT (POSITIVE) REACTION...
Both pictures were part of Warwick University's much-famed rowing club's charity calendars, designed to raise money through their provocatively cheeky images.
But when they were released within weeks of each other one was slated as 'explicit porn' and thrown off Facebook; the other was described as 'gorgeous nakedness who make our ovaries explode.' No prizes for guessing which way round.
Affiliate marketing is trumpeted as one of the great money spinning phenomena of the internet age. Forrester predicts that it will be worth $4.5billion by 2015, yet many of us don't know how to get a piece of the action.

So the good people at eSeller have taken action and drawn up a series of guides explaining what affiliate marketing is, which businesses can help and what your next steps should be. Before you know it you'll be reaping the benefits of other people's traffic!
To stay connected with all eSeller does, check us out on Twitter, Facebook, Google+, LinkedIn and Pinterest. There's no excuse not to stay in touch. And as always, don't forget to register with us.
Hunting big game has been going for over thousands of years and people always voice their opinions. Below are five controversial photos that have landed people in hot water:

1. Kendall Jones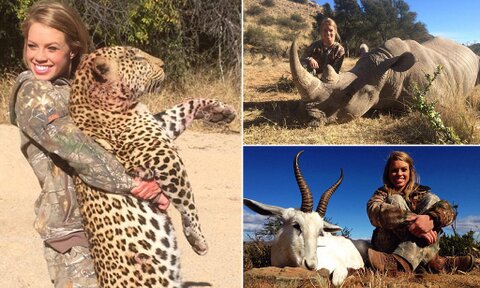 This 19-year old hunter from Texas has a facebook account filled with countless pictures of "big game" animals she claims as "trophies." I wrote about Jones almost two weeks ago, as she lit an outrage on Facebook from the pro-animal community by posting pictures she has hunted and killed in Africa. Since my post, TMZ reported that Facebook had to take down a page called "Kill Kendall Jones" which featured pictures of big game animals holding Jones as a trophy.